News
Drexel IRC Wins TruPrint 1000 Consignment Contest Held by TRUMPF
In April 2019, Drexel University was selected to receive a TRUMPF TruPrint 1000 3D printer for a one-year consignment. The TruPrint 1000 uses TRUMPF's Laser Metal Fusion (LMF) technology and will be housed at the Drexel IRC laboratory.
Genymphas Higgs Wins People's Choice Award at Drexel Three Minute Thesis (3MT®) Competition
On April 11, 2019, Drexel University hosted a Three Minute Thesis (3MT®) Competition as a part of the Emerging Graduate Scholars Conference. Following the competition, Genymphas Higgs was named winner of the People's Choice Award for his presentation "Real World: Medical Device Edition".
To learn more about the competition, visit: The Drexel Emerging Graduate Scholars Conference Website
Genymphas Higgs Named Finalist for Johnson & Johnson Engineering Showcase
Every year, Johnson & Johnson hosts an engineering showcase at the global headquarters in New Brunswick, NJ. After the day-long judging session on February 28th, Genymphas was named one of three finalists selected for the university award based on: Innovation & Novelty, Feasibility & Capability for Implementation, Impact to Business or Humanity, and Presentation Quality.
Drexel IRC Joins Women in 3D Printing
In January 2019, the Philadelphia chapter of Women in 3D Printing had their first meet-up led by ambassador Cemile Basgul. The mission of the group is to connect, promote, and inspire women who are using Additive Manufacturing technologies.
To learn more about Wi3DP, visit The Women in 3D Printing Website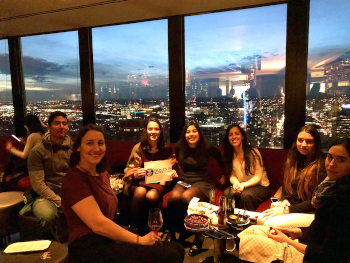 Registration for the 4th International PEEK Meeting is Now Open!
The 4th International PEEK Meeting, organized in part by the Drexel IRC, will be held in Washington, D.C. April 25-26th 2019. The purpose of the meeting is to bring together engineers, scientists, regulators, and clinicians from academia, industry, and government agencies and present leading edge research on advancements in medical grade PEEK technology and clinical applications.
To find out more or to register for the meeting, please visit: The Medical PEEK Lexicon
Apium Features Visit with Dr. Steve Kurtz on LinkedIn
Apium, a leading manufacturer of high performance PEEK for 3D printing, recently published an article highlighting PEEK, an upcoming printer launch, and the AM work being done at the IRC.
To read the article, visit: LinkedIn
Genymphas Higgs Receives ISTA 2018 London Young Investigator Scholarship
Genymphas received this honor for his research on the electrochemical characteristics of THA taper corrosion.
Higgs G, Siskey RL, Rimnac CM, Mihalko WM, Gilbert JL, Kurtz SM. Electrochemical Impedance Spectroscopy as a Method to Distinguish Corrosion Severity and Damage Modes in Retrieved Femoral Heads. 31st Annual Congress of the International Society for Technology in Arthroplasty, London, UK, October 10-13, 2018.
Drexel IRC Featured in the Philadelphia Inquirer
The Inquirer Daily News published an article spotlighting the research and day-to-day work of the Drexel Implant Research Center.
To read the article, visit: Philly.com
Daniel MacDonald Receives 2014 Heinz-Mittelmeier Research Award
Daniel MacDonald received this award for investigating the role of ceramic materials in reducing the amount of corrosion observed in modular junctions in total hip arthroplasty. He is invited to present his research at the German Congress For Orthopaedics And Traumatology (DKOU) in Berlin, Germany, October 28-31, 2014.
Alex Sevit Receives 2013 Goldwater and Whitaker International Scholarships
Alex Sevit first became interested in biomedical research when he began a co-op position at Drexel's Implant Research Center under Prof. Steven Kurtz. There, he helped initiate a multi-center cardiac pacing lead retrieval program that characterizes the biodegradation of the wires that connect the pulse generator of the pacemaker to the heart wall. Alex presented his research at the 2013 annual meetings of the Heart Rhythm Society and the Society for Biomaterials. His research has since shifted towards development of a novel antibacterial coating on the surface of orthopedic implants to prevent infection.
For more information, visit: Drexel University Fellowship Office